About Modesto Spirit of Giving Virtual 5K
The Modesto Spirit of Giving 5K Run benefits many under privileged residents in the Modesto area.
Please consider RUNNING, WALKING, ROLLING or VOLUNTEERING this year to help better your community.
We have a canned food drive benefiting Modesto Gospel Mission. Bring a canned food item to the event or make a monetary donation and get a raffle ticket (up to 10 tickets) for a chance to win great prizes. 10 or more cans qualifies you for a chance to win the Mystery Grand Prize.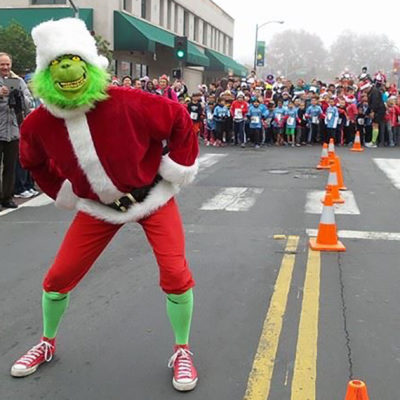 View More Photos from Past Spirit of Giving 5K Races!
Modesto Leisure Bucks Program
Each year, the City of Modesto gets over 1,700 applications for its Youth Scholarship Program, "Leisure Bucks". This program is the City of Modesto's financial assistance program for low-income youth, disabled adults and senior citizens. Every qualified applicant is eligible for a credit of up to $100 towards City of Modesto programs such as: swim lessons, dance classes, art lessons, etc.
Until 2007, Funding for Leisure Bucks had been provided by the City of Modesto's General Fund; however, the recent economic crisis has forced us to seek private funding for this program.
According to the Association for Supervision and Curriculum Development, children flourish when they are exposed to stress-relieving recreational activities and these are "largely unavailable to those living in poverty." Proceeds from the Modesto Spirit of Giving 5k Run and Walk will allow disadvantaged youth to take part in city-wide recreational activities.
You can find out more about the Leisure Bucks Program Here.
Since 1948 Modesto Gospel Mission has provided nutritious meals, warm beds, and a place of safety for thousands of poor and homeless men, women, boys and girls. Founded by Mr. John Haine, the Mission's staff remain committed to meeting the physical, spiritual, and emotional needs of every man, woman, boy and girl who comes to the Mission for help and hope.
Modesto Gospel Mission receives NO government funding and is not a United Way agency. The Mission depends completely on the gifts of individuals, churches, groups, foundations and businesses, who care about the poor and homeless.
Learn more about Modesto Gospel Mission on their website, here.